Bardia National Park Tour Package - 5 days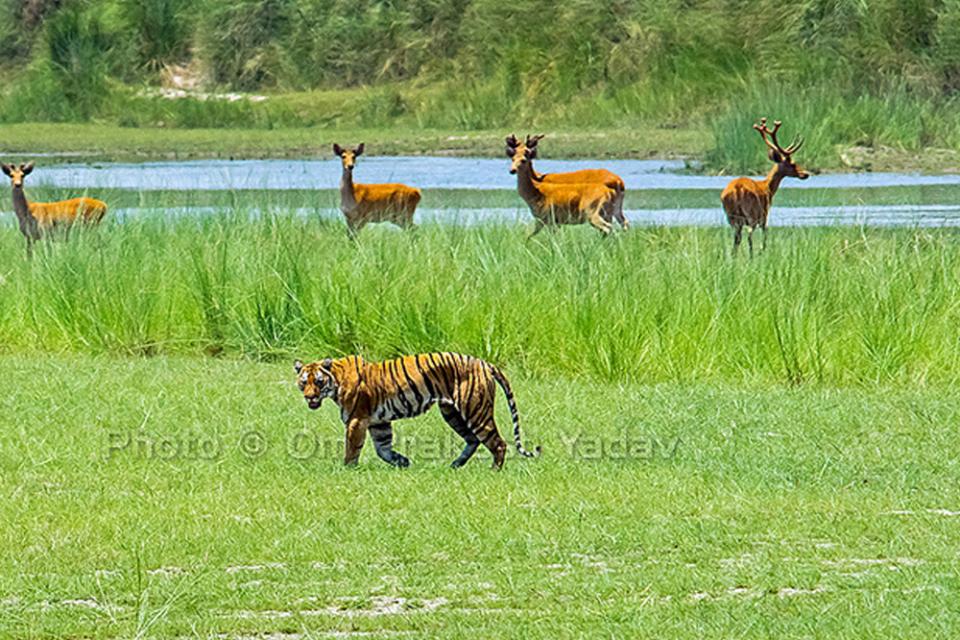 Overview
Being the largest and undisrupted protected area of Terai region of Nepal, The Bardia National Park is home to the endangered Royal Bengal Tiger and Nepal's renowned one horned rhinoceros.Situated in the mid-far western Terai, bordered by the Karnali River and covering the area of 968 sq km, Bardia is the biggest National park in theTerai region. Around 70% of the park is secured with Sal jungle; the staying 30% is a blend of grassland, savannah and riverine forest.
What makes a visit to Nepal's Bardia National Park especially unique is the nearness of one of the last known groups of wild elephants in South Asia. The crowd, numbering under 2 dozen, wanders around this remote wilderness range of western Nepal.There are a number of things that you can entertain yourself with. An elephant ride is the ideal approach to set out on untamed wildlife, as it is possible to wander off the major trail.The short 5-days outing is loaded with stunning natural life experience in the stifling wildernesses of Bardia National Park. While here, you can keep yourselfoccupied with nature walk, float-safari, bird watching, elephant-back safari, visit to elephant and crocodile breeding center and participate in the indigenous culture of the local ethnic group the 'Tharu'.
The best period of the year to visit Bardiya National Park is between February and July as there is a greater chance of spotting Tigers as they come out for water. Time around November/December is also a good time to visit but the weather can be hazy.So if you want to feel a proximity to the typical wilderness of Nepal, an excursion to Bardia National Park can be a perfect choice.
Itinerary Details
Day 1: Arrival to Kathmandu and accommodation at a Hotel
After you arrive at Kathmandu International Airport, our airplane terminal agent will sit tight for you to exchange to the hotel. At the hotel, you can simply refresh yourself and relax. You will be served with a traditional Nepali food in the evening.
Day 2: Fly from Kathmandu to Nrpalgunj and drive Bardia
After you drop off atNepaljungfrom anaeroplane, our representatives will be there to receive you. You will reach bardiya National Park after 2 hours' drive in a private vehicle. Then you will be transferred to a hotel where you will refresh and relax for a while. In the afternoon, you will visit around the Tharu village where the ethnic community of the Tharu resides. We will likewise tour around the visitor center of Bardiya National park and crocodile farm.Overnight in hotel.
Day 3: Jungle Safari at Bardia National Park
After breakfast we set out into the forested areas by walking where we will be accompanied by our guide and porter. We will explore around the hot wilderness of Bardia National park which is a home to several one-horned rhinoceros, tigers, spotted dear, black buck, leopard, golden Jackal, etc. Our guides will help you follow the wildlife. We will likewise visit the freshwater Dolphin. There are towers inside from which you can enjoy and capture the view of the beautiful surrounding of the National park.
Day 4: Float safari, bird watching and cultural dance program
We will drive to Chisapani in the morning after breakfast. The primary motive for the day will be to experience the Karnali River and the untamed wildlife outside the BardiaNational Park. We will be joined by a professional guide for crossing the river which does not have any rapids. All through the trip, we get the chance to appreciate the excellent sub-tropical scene alongside the serene wildlife. Seeing the wild creatures quenchingtheir thirst and different colorful birds flying in groups around theKarnali River will be a stunning experience of the tour. In the evening, you will be entertained with the localTharu cultural dance program and served with local cuisine for dinner. Overnight in Bardia National Park.
Day 5: Elephant Safari and departure
In the morning, we will set out to the Jungle area of Bardia National Park for a popular elephant-back safari. You can get a crystal clear view of the wild animals and other delightful creatures of nature through elephant safari and also get rid of danger from animals like rhinoceros. It is also a unique experience which can be one of the everlasting memories of your lifetime. You can see the likes of rhinoceros, musk deer, monkeys, bears and so on. After lunch, our representatives will assist you to the Nepalgunj airport for a flight to Kathmandu from where you will move on towards your next destination.
Trip Inclusion
What is included?
- Receiving and drop off to the airport
- A English speaking experienced guide and necessary porters
- Accommodation and meals during your stay at Bardia National park
- Transportation costs(private vehicles)
- National Park entrance Fees
- All government and local taxes
- A sophisticated resort in Bardiya National park
What is not included?
- International aairfare
- Extra night accommodation apart from the schedule due to any reason
- Travel and rescue insurance
- Personal expenses
- Tips for travel guides or porters
- Excess baggage charges
Note
All conditions stated in the itinerary are for the visitors who prefer full package programme. At the same time, we also serve you based on your choice. The selection of itineraries and the staff depends on your choice and financial procurement. We have options for any partial visit as per your requirement regarding your interest and financial condition.
Trip Summary
Trip Information
Trip Duration : 5 days, 4 nights days
Best Season : January to June & Late September to December
Country : Nepal
Group size : Min 1
You May Also Like