Bardia National Park and Shuklaphanta Wildlife Reserve Tour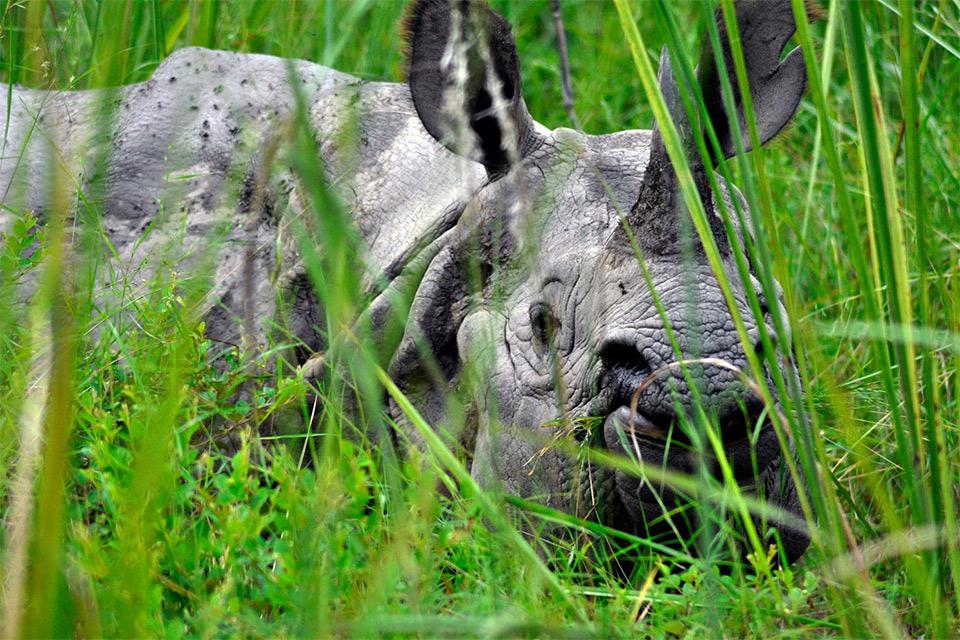 Overview
Bardia, which is the Tharu word for "herder," is one of the finest wild areas of Nepal. It is flawless in respect of its natural beauty and faunal diversity. The Bardia National Park covers an astounding 968 sq. km, making it the biggest national park in Nepal's Terai region. Similarly, another stunning wilderness sheltering the far-western Terai region of Nepal is the Shukla Phanta Wildlife Reserve covering an entire area of 305 sq. km of open grassland, forests, riverbeds and tropical wetlands. These areas are significantly paramount to the wildlife passionate who adore to disappear in the wilderness and researchers as well.
It is an interesting fact given that Bardia gloats of a noteworthy 37 mammals, the majority of them excessively adorable. You will get fanatic about them even when they are not in sight. You can see guides conversing with each other to get some information about tigers and rhinos than about their families. These incorporate the huge three: Royal Bengal Tiger, Asian elephant, and One-horned rhinoceros. Deer species i.e. chital (spotted deer), hoard deer, and the woofing deer are all roaming around. Another inhabitant is the four-horned Antelope and Nilgai.
Suklaphanta Wildlife Reserve the open grassland is a perfect setting for amusement review and wilderness safari for guests. The Royal Shuklaphanta Wildlife Reserve in Mahendranagar is a tremendous area of plain meadows and Sal woodlands. The park that was initially saved as a hunting reserve was later changed over into an untamed wildlife reserve to secure swamp deer. The hold now protects just about 2,000 swamp deer, wild pigs, panthers, jackals, langurs and rhesus monkeys. You can achieve Suklaphanta Wildlife reserve either through drive or flight from where the regional headquarter is just eight kilometers south. Another choice is to travel to Dhangadi from Kathmandu and after that drive to the wildlife reserve by means of Mahendranagar.
Itinerary Details
Day 1:

Fly from Kathmandu to Nepalgunj and drive to Bardia

After you arrive at the Nepaljung airport, you will be received by our airport personnel. Then you will proceed towards Thakurdwara, Bardiya. After reaching Bardia, you will have time to refresh yourself and later there will be a guided tour to Tharu Museum which is a preserved traditional Tharu home with paintings hanging on the walls and woven baskets in the ceiling.

Overnight stay at resort or similar including dinner.
Day 2:

Full day jungle walk or jungle safari

After breakfast, we head on to Bardia National Park where we will be spending our entire day doing jungle safari. We will mainly roam around the tiger and rhinoceros observing their behavior and feeding habit, likewise visiting the birds and other local animals of the national park.

Overnight stay at resort or similar on full board basis.
Day 3:

Bird watching, crocodile breeding center visit and Elephant ride

Today, there will be a guided tour around the National Park to watch the beautiful birds that have flourished in the jungles pristine environment. Likewise, if you want to catch a look at the gharial and crocodiles, the crocodile center is where you will be going to watch them basking in the sun. Additionally, there will be an elephant back ride along the jungle from where you will be able to enjoy the view around the park and capture photographs as well.

Overnight stay at resort or similar on full board basis.
Day 4:

Camping in Babai valley

In the morning after having breakfast, we dive towards the camping site at Babai valley named after the Babai River. There will be a walk in the riverine forest where we will spot some rhino and birds. As the place is rural and isolated, no resorts can be found and hence we have to camp on our own for the night.

Camping at Babai valley including 3 meals a day.
Day 5:

Fishing in Babai River and drive to Mahendranagar

In the tranquil atmosphere in the morning, we head out to the Babai River and enjoy fishing for 2 or 3 hours but have to be cautious not to go too near to the bank as we fish. We then drive towards Mahendranagar and have our lunch on the way at Chisapani. We appreciate the aesthetic scenery of Ghodaghodi tal (a famous lake in the far-western region of Nepal) on the way as well.

overnight stay at resort or similar on full board basis.
Day 6:

Visit around Sukla Phanta wildlife heritage

Early in the morning, we head out for jeep safari in Sukla Phanta Wildlife Reserve. We visit around the famous grassland, lakes and the ancient Tharu village inside the reserve. The wilderness of the area is appreciative as we watch the wild animals run and play in the area. In the evening, we can go to the suspension bridge and relish the surrounding atmosphere.

Overnight stay at resort or similar on full board basis.
Day 7:

Depart to Kathmandu

This will be the final day of our trip as we return to Kathmandu. After breakfast in Mahendranagar, we set out towards Dhangadi Airport and board on a flight to Kathmandu. You can visit around Kathmandu in the afternoon and finally divert to your next destination.

Meals includes Breakfast and lunch.
Trip Inclusion
What is included?
All airport pick up and drop by private transportation.
Kathmandu to Nepalgunj and back to Kathmandu by flight.
All necessary transport as per the itinerary.
All Jungle activities and National park entry fees.
Three meals a day Breakfast, Lunch, Dinner during the safari.
Accommodation on Twin/double sharing basis on Resort or similar for 3Nights at Bardia and 2Night at Shuklaphanta.
All necessary camping equipment and arrangement in Babai valley for one day.
Safari activities as per given itinerary with nature guide.
First aid and medical kit.
What is not included?
Personal expenses,bar bills,tips,travel insurence.
International air fare to and from Nepal.
All meals and accommodation in Kathmandu (we do provide on your request with extra charge).
Personal travel and health insurance.
Emergency evacuation.
Extra expenses due to flight delay, strikes, weather condition or any events which is out of control.
Anything not included in Includes column.
Note
All conditions stated in the itinerary are for the visitors who prefer full package programme. At the same time, we also serve you based on your choice. The selection of itineraries and the staff depends on your choice and financial procurement. We have options for any partial visit as per your requirement regarding your interest and financial condition.
Trip Price
US $ 930 per person
Trip Summary
Trip Information
Trip Duration : 6 night 7 days
Best Season : January to June & Late September to December
Country : Nepal
Group size : Min 1 Pax
You May Also Like