Kathmandu Pokhara Annapurna Heli Trek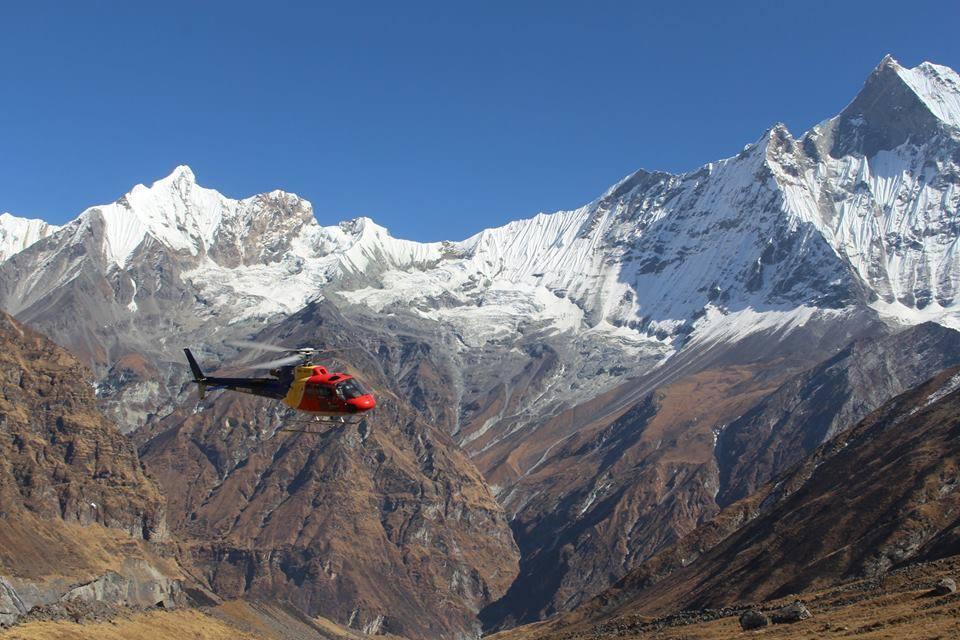 Overview
An awe -inspiring tour, auspiciousness the best of spellbinding mountain views and Nepalese culture… Amazing tours to UNESCO World Heritage Sites in Kathmandu, excitement helicopter travel to photogenic lakeside town of pokhara and to the impressive Annapurna Basecamp with amazing views of Annapurna range, Manaslu, DhaulagiriJugal Himal and other Himalayan giants , which will reamin a memorable tour to all. The eventual self -indulgence tour with savvy into Nepalese culture and impressove free - flying Himalayan mountain visual images.
Itinerary Details
Day 1: Arrive to Kathmandu; Transfer to Hotel and overnight in hotel Dwarika
Day 2: Sightseeing in Kathmandu Herigates with expert guide and overnight in hotel Dwarika .
Day 3: Heli tour to Annapurna Base Camp (1300 m) and Over night at Pokhara (1300 m) hotel fishtail lodge.
Day 4: Fly back to kathmandu and overnight at hotel Dwarika .
Day 5: Depature to your own destination.
Trip Inclusion
What is included?
1. Airport pickup and drop with private vehicle.
2. Helicopter flight as per the programmed.
3. Hotel accomdation with breakfast as per the programmed.
4. All necessary permits .
5. Sightseeing with expert tour guide and with private vehicle
What is not included?
1. Internation flights
2. Travel insurance
3. Lunch and dinner in kathamdu
Note
All conditions stated in the itinerary are for the visitors who prefer full package programme. At the same time, we also serve you based on your choice. The selection of itineraries and the staff depends on your choice and financial procurement. We have options for any partial visit as per your requirement regarding your interest and financial condition.
Trip Price
US $ 4,000 per person
Trip Summary
Trip Information
Trip Duration : 5 days, 4 nights days
Country : Nepal
Group size : Min - 1
You May Also Like