Naturally Pokhara A cool destination for the summer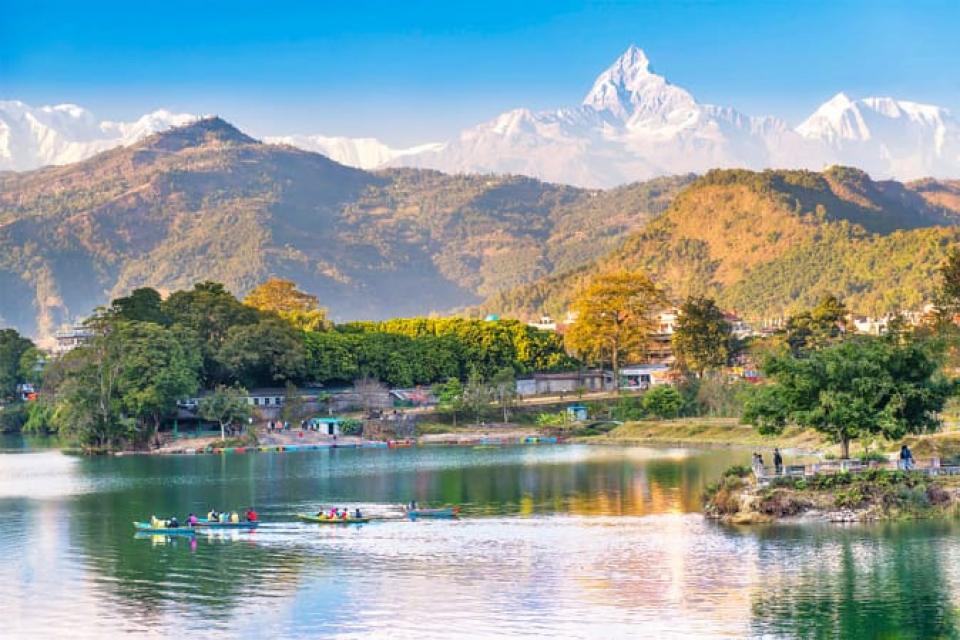 Overview
200 km west from Kathmandu, Pokharais a beauty at its finest. Surrounded by the Annapurna Massifs and green ridges Pokhara is a well-known tourist hub. Pokhara blends in the city filled with many UNESCO heritage sites and a unique atmosphere with panoramic scenery of mountains, high hills and landscapes that surround it.
Fewa Lake
Fewa Lake is one of the largest and well-known lakes in Nepal. It is famous for the reflections for peaks of Annapurna, Machapuchare and Dhaulagiri as well as unobstructed views of Annapurna Massifs. The lake provides various activities such as boating and fishing. In the middle of the Fewa Lake there lies a temple Tal Barahi Temple. The temple provides a religious experience for the people of Hindu community.
Davis' Falls
Known as PataleChhango in Nepali, Davis' falls is a beautiful waterfall that connects with PardiKhola and vanishes underground. The waterfall creates wonderful prismatic effect with the sunlight along with soothing sound of the fall.
Gupteshwor Mahadev Cave
Gupteshwor Mahadev Cave is a holy site for Hindus known for the natural Shiva lingashrine.
Mahendra Cave and Bat Cave
Mahendra cave is named after former Nepa's King Mahendra Bir Bikram Shahadev which was discovered in late 1950's by a young shepherd in the area. The cave canal is dark with nonstop dripping water overhead and full of limestones. There is another cave nearby Mahendra Cave known as Bat cave due to its habitat for bats clinging the ceiling of the cave. The cave is deep, dark and damp place with no light assistance beyond 125 meters.
Tibetan Refugee Camp
The refugee camp has an atmosphere of Tibet where Khampas, the former Tibetan guerilla fighters reside.
World Peace Pagoda
World Peace Pagoda is one of the 80 white stupas from around the world that was built by Buddhist monks from NipponzanMyohoji organization. It is an important shrine for the people of Buddhist communities.
Itinerary Details
Day 1:

Fly from Kathmandu to Pokhara

From Kathmandu we take a short early morning flight to Pokhara. You will be greeted by a designated individual who will transfer you to your hotel. Today we go sightseeing for half a day and then explore the Fewalakeby boat riding in the evening.

Overnight stay at Hotel on BB basis.
Day 2:

Sightseeing in Pokhara

Today we go sightseeing after breakfast. Several locations for our sightseeing includes Davis'Falls,Known as PataleChhango in Nepali, Davis' falls is a beautiful waterfall that connects with PardiKhola and vanishes underground. GupteshworMahadevCave, Old Pokhara and Gurkha Museum.

Overnight stay at Hotel on BB basis.
Day 3:

Drive to Sarangkot for sunrise view

We spend another full day sightseeing in Pokhara again.Several locations for our sightseeing includes the Bat Cave and Mahendra Cave. We hike to World Peace Pagoda and then visit Tibetan Refugee Settlements.

Overnight stay at Hotel on BB basis.
Day 4 :

Fly back to Kathmandu

We take an early morning flight to Kathmandu. You will be transferred to the airport as per your flight schedule before departure. Farewell.

Meals include breakfast.
Trip Inclusion
What is included?
All airport pick up and drop by private transportation.
Kathmandu to Pokhara and back to Kathmandu by flight.
All necessary transport as per the itinerary.
First aid and medical kit.
3N accommodation at Pokhara on BB basis.
Sightseeing at Pokhara with guide.
Entrance fees or any government taxes.
What is not included?
Personal expenses,bar bills,tips,travel insurence.
International air fare to and from Nepal.
Personal travel and health insurance.
Emergency evacuation.
Extra expenses due to flight delay, strikes, weather condition or any events which is out of control.
Anything not included in Includes column.
Note
All conditions stated in the itinerary are for the visitors who prefer full package programme. At the same time, we also serve you based on your choice. The selection of itineraries and the staff depends on your choice and financial procurement. We have options for any partial visit as per your requirement regarding your interest and financial condition.
Trip Price
US $ 650 per person
Trip Summary
Trip Information
Trip Duration : 3 Nights and 4 Days days
Best Season : January to June & September to December
Country : Nepal
Group size : Min - 1
You May Also Like